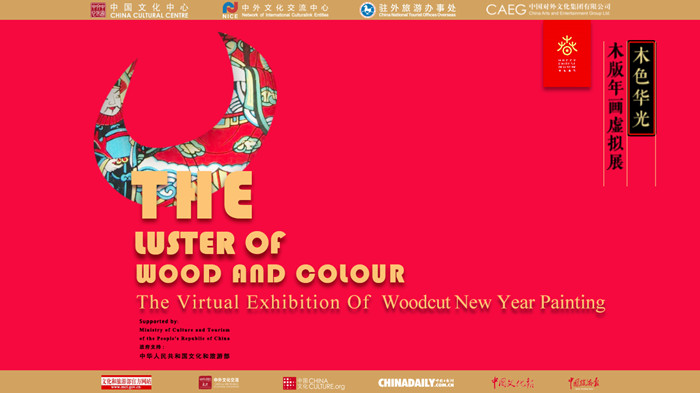 click the picture to enter the virtual exhibition
         As a symbol of Chinese new year's culture, along with the evolution of Chinese New Year customs in long times, the intangible cultural heritage Chinese new year painting have evolved into a special symbolic decorative art of Chinese folklore. They are important carriers of folklore dissemination, an artistic transmission of the good wishes of Chinese people's daily life, and they carry Chinese people's blessings, joyous pursuits and their dreams for the future.
        This exhibition selects 52 pieces/sets of exquisite intangible cultural heritage woodcut new year paintings from Zhuxianzhen in Henan, Yangliuqing in Tianjin, Taohuawu in Jiangsu, Yangjiabu in Shandong, Fengxiang in Shaanxi, Hanzhong in Shaanxi, Mianzhu in Sichuan, Foshan in Guangdong, Zhangzhou in Fujian, Tantou in Hunan, Wuqiang in Hebei, Linfen in Shanxi and Liangping in Chongqing. According to the content, they are divided into three sections: praying for good fortune, warding off evil spirits and eliminating disasters; myths and legends, drama stories; folk customs and city life, which aiming to show the rich folk customs and artistic charm of Chinese woodcut new year paintings. The display methods are 720-degree panoramic exhibition hall, video demonstration of the printing process, new year painting downloading, new year painting animation, 720-degree engraving display, etc.