Chongqing- Chengkou is located at the junction of Chongqing, Sichuan, and Shaanxi, among the Daba Mountain hinterlands. It is the northernmost county of Chongqing, and the name Chengkou originates from being a city gateway to three provinces.
The county enjoys a wealth of red history, a good ecological climate, idyllic natural scenery, and a colorful variety of folk customs. As a result, Chengkou is regarded as a spiritual heartland and a paradise for healthy living for which people far and wide earnestly yearn.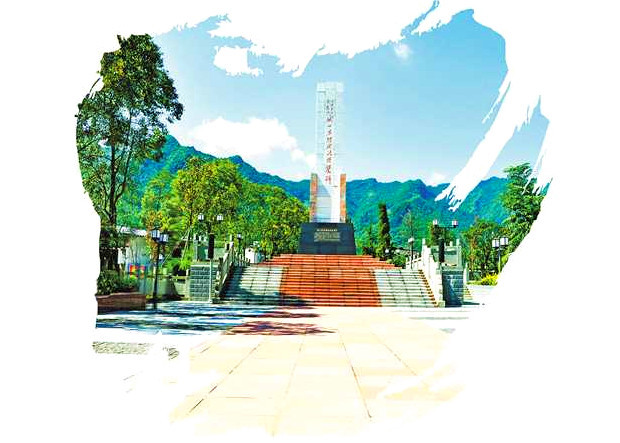 The Remembrance Monument in Chengkou in honor of the county's red history.
Among the numerous titles of Chengkou, the county is widely known as an eco-climate pearl of China, a national forest tourism demonstration county, a good living and travel county for the elderly, the hometown of Chinese folk culture and art, an animal and plant gene bank, and a natural oxygen bar.
In recent years, Chengkou has energetically practiced the development concept that green waters and mountains in the county are a source of great natural wealth. The plentiful ecological resources have spurred development in tourism throughout the county, based on the six name cards of Ba culture, ecology, health, countryside, humanities, and red history.
Scholars and writers of past dynasties have regarded the Daba Mountains as a great source of creativity in poetry. The famous lines of Bashan Shu Waters and Bashan Night Rain exist to this day. In Chengkou, there are mountains, ravines, creeks, and rivers to be found in all corners, and is a land of mystery that feeds a yearning to satisfy dreams of adventure.
On a wander through the ecological surroundings of Daba Mountain perfect for living and tourism, there are must-visit locations such as Tucheng Old Street, Chengkou County Soviet Regime Memorial Park, and the Red Army Memorial Park.
The 4A rated scenic location of Tucheng Old Street was built during the Jiaqing period of the Qing Dynasty and has a history of 200 years. The bluestone slabs embody the tenacious spirit of the city, while the wooden eaves are witness to prosperity, and the old city walls are steeped in history.
People have lived and worked here for generations. In recent years, Chengkou has been modeled on the image of a fine rural city home to charming old streets. The goals are to make a pearl of this natural garden based on the rich history of Tucheng thoroughfares and narrow alleys.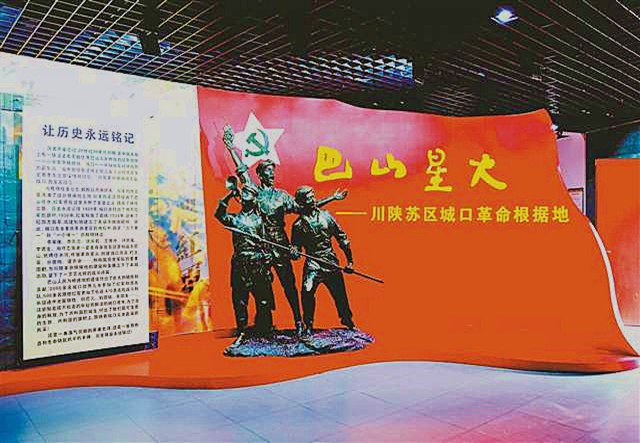 Chengkou was an important location of the Sichuan Shaanxi Revolutionary Base.
Chengkou was an important location of the Sichuan-Shaanxi Revolutionary Base. The county was the first to be liberated by the Red Army in Chongqing, the first to welcome in the Chinese Red Army of Workers and Peasants, and the first county in Chongqing to see the Red Army flag raised. It was also the only revolutionary zone with four levels of Soviet authority in the counties, districts, towns, and villages. 
Chengkou County only had a population of 57,000 at the time, yet over 3,000 people joined the Red Army and guerrilla teams. At the same time, more than 500 participated in the Long March, during which over 470 people perished, a testament to their fearless and indomitable spirit. Over the revolutionary war, multiple brigades of the Red Army fought at the city gates of Chengkou
Inside the 3A rated Soviet Regime Memorial Park, there are major tourist attractions such as monuments, a memorial hall, a remembrance square, inscriptions, and the Red Army Wall of Cultural Narration.
This park has been included on the list of classic national scenic spots for red tourism and is designated as a base for education in patriotism and national defense.
Take a walk amongst the Daba Mountains in Chengkou, where seas of colorful leaves adorn the layers of ridges and peaks stretching thousands of miles like the Great Wall. Feel the awe of these lands witness to great valiance to a sunset backdrop.
Once people set foot in the county, they discover a paradise for recuperation, where they can take a rest bite from the daily urban bustle, cast worry aside, slow the pace of life, and seek feelings of nostalgia in this dreamlike wonderland.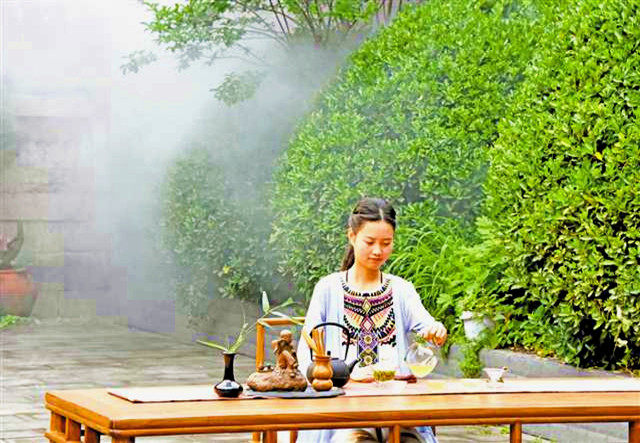 Savor the famous teas of Chengkou County.
In spring, flowers bloom in riotous profusion. In summer, there is an escape from the scorching heat. In autumn, colorful withering leaves adorn the landscape. In winter, snowfall turns the county into a children's wonderland.
Pastoral scenery, rural culture, folk customs, and country food entice urban dwellers into the beautiful villages of Chengkou. Nowadays, it has become a fashionable way of life to explore the country in search of leisure, quiet life, and nostalgia.
In recent years, under the auspices of whole region development, Chengkou County has combined tourism with rural revitalization and has recreated the strong appeal of authentic villages, flavors, appearance, and architecture, which have been connected to form a highly agreeable living environment.
Idyllic farmhouse experiences amid a backdrop of mountains and chrysanthemum, visitors can take deep breaths of fresh air rich in negative oxygen ions as they listen to the night rains of Bashan. Scenes like this have become a unique experience in rural tourism among the lands of Chengkou.
The Taiping Community of Beiping Township has made full use of rich land resources to build an ecological agricultural sightseeing park, where they have integrated sightseeing, tourism, and pick your own experiences among 500 mu of various fruits and vegetables.
Visitors from near and afar can fill their bamboo baskets with mushrooms in spring, peaches, and plums in summer, melons in autumn, and strawberries in winter.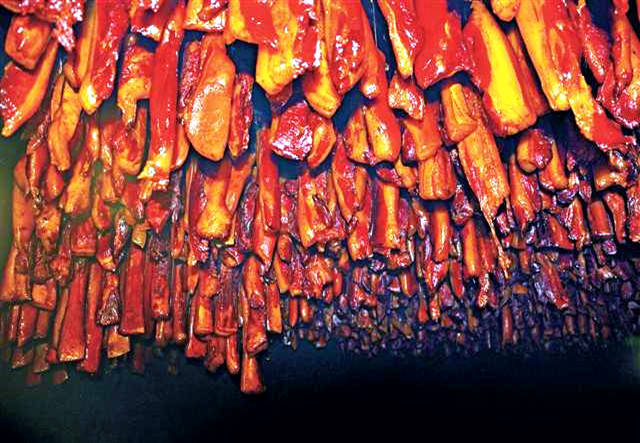 Chengkou old bacon uses a secret recipe passed on over 500 years.
Sanhe Village in Lantian Township is an excellent destination for self-driving tours. Once in Lantian, visitors can watch the intangible cultural heritage of pole stick dances, have fun in the water park, bring a tent for camping, and take their children on a close encounter with nature for quality family time.
Pingxi Village in Heyu Township has developed the theme of farming experiences to etch the fondest of memories at heart. Here, you can turn the stone mills and traditional windmills, then venture into the woods to catch a mountain reared chickens, or descend on the mud fields to capture a few loaches in a scene reminiscent of childhood.
In the museum, touch the farming implements of times past, explore the old village, and regain the sense of nostalgic memories. As night falls, watch a live performance of Beloved Mountain River Fish with your companion, and reminisce the initial buddings of love.
After experiencing the local customs, stay at the unique Daba Mountain guesthouse called Meet 31 Jian, where you can listen to the sounds of nature among the dreamlike forests and countryside.
In the quest for health and well-being, the embrace of nature has always been the ideal fix for anxiety, stress, or depression, no matter the differing approaches and patterns of thought.
The water quality in Chengkou is sweet, and the air is fresh. Scenes of drifting cloud, sunshine, rainbows, mist, rain, snow, ice, and rime interchange through the year in a colorful exhibition of natural landscapes. The annual average temperature is 13.9℃, with the average in summer a cool and refreshing 23.3℃.
Fengcong wetlands offer a refreshing climate, organic food, and a green environment where people can experience health and contentment.
The pristine waters of Chengkou are often safe to drink directly.
The Daba Mountains stretch thousands of miles and form a grand entrance to the city of Chengkou. Forest coverage in the county has reached 70.2%, days of excellent air quality has reached over 350 per year, and the environmental quality index has ranked first in Chongqing over many consecutive years.
Huang' anba Ecological Base has a total area of about 200 square kilometers and is home to unique mountain grasslands, forests, and canyons, with an average elevation of around 2,200 meters.
In summer, the temperature often falls below 20℃, which makes Chengkou an excellent choice for summer health preservation and sightseeing, as the windswept grasslands extend beyond the eye can see amid a scene of lush pastures home to grazing sheep and cattle.
Put a tent on your back, invite some friends to camp in the wild, then admire the beauty of the sunrise, sunset, and the starry skies.
In winter, the average temperature falls to between minus 10-20°C. This part of Chongqing welcomes the first snows each year and is also where they are last to melt. During this time, the expansive lands of Chengkou become an enchanting fairy tale world of snow and ice stretching thousands of miles. 
Kanggu Resort, a national 4A-level scenic spot, integrates canyons, forests, peaks, cliffs, streams, and peculiar rock formations. The location is known as Little Zhangjiajie.
Forest coverage here reaches as high as 90%, and the concentration of negative oxygen ions in the air numbers between 18,000-32,000 pcs/cubic centimeter. With an average summer temperature of 15.4℃, this resort is an authentic natural oxygen bar, health resort, and summer paradise.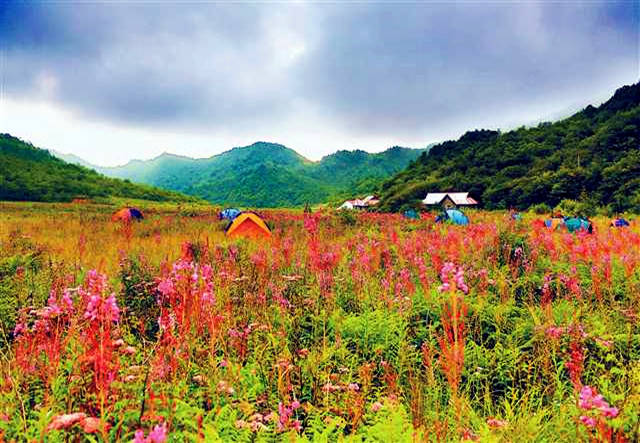 The picturesque Bashan Mountains.
Currently, the focus is on completing the scenic spot of Kangjiazhai in Kanggu Resort, as part of a comprehensive upgrade into a national 5A rated attraction.
Come the time, and you can stroll leisurely along 20 kilometers of high mountain trails as you admire the colorful surroundings. A cableway stretching over 1,400 meters will take you up to a clifftop platform with a vertical drop of 300 meters, offering great views overlooking the impressive mountain scenery.
The 400-meter long glass bridge is the first of its kind in Asia, allowing visitors to feast their eyes upon the magnificent landscape of serene valleys. At the same time, the exhilarating heights stimulate the heartbeat and sweat glands.
Close by, you can also experience the thrill of mineral water rafting, with an elevation drop of over 130 meters along the 14 kilometers of Qinglong Gorge.
The riverbed is visible through clear waters that are safe to drink. Macaques play on the shore as fish swim through the shallow depths. Once in the end, blue skies, white clouds, azure water, and green mountains set against each other as if captured within a beautiful masterpiece of an oil painting.
The secret folk recipe of Chengkou's old bacon has been passed on through over 500 years. It is made from organically raised pigs raised in the ecologically pristine surroundings. Following a careful process with dozens of steps, Chengkou's old bacon is pure and nutritious and features widely in the traditions of Chongqing, Sichuan, and Shanxi.
Chengkou's old bacon is registered as a collective trademark in Chongqing and has developed into a quality product in the snack food and tourist industries.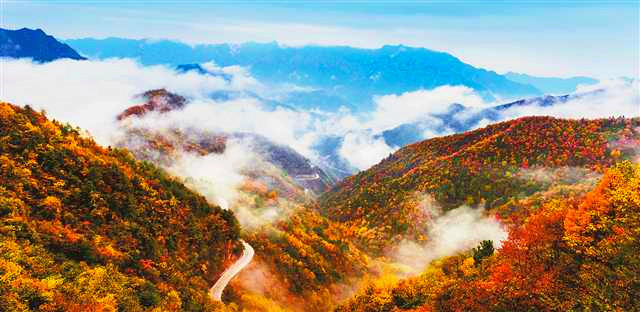 Admire the breathtaking mountain scenery of Chengkou.
Jiming Tea is produced from the ancient tea gardens of Jiming Temple, inherits the traditions of Zen craftsmanship of Jiming Temple, and recreates the essence of palace life going back more than 200 years.
There are over ten manual processes involved in the production, such as fan cooling and light kneading. The tea is clear green and has a mellow and refreshing aroma with a long-lasting fragrant and tangy aftertaste.
Zhongfeng Honey is sourced from the wild nectar of virgin forests at an altitude of around 2000 meters. It is rich in glucose, protein, minerals, organic enzymes, aromatic substances, and vitamins.
Ten kinds of trace elements required by the human body are contained in high quantities, while the quality honey is golden in color, fragrant in aroma, and refreshing in taste.
Mountain god lacquerware is meticulously handcrafted using techniques listed as municipal intangible cultural heritage. It uses natural logs for the inner tube and high-quality wood lacquer on the exterior.
The products are exquisite in appearance and high in quality. They embody the quintessence of Bayu culture and regional symbols of Chongqing.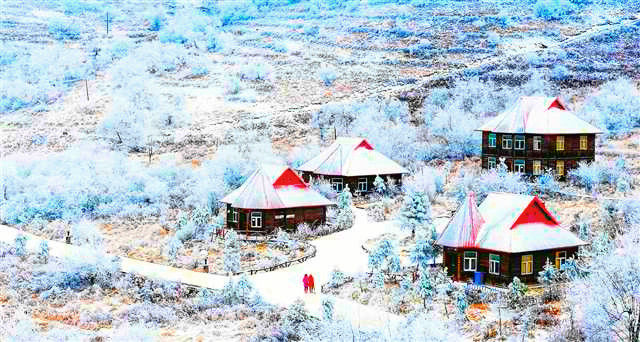 In winter, the expansive lands of Chengkou become an enchanting fairy tale world of snow and ice stretching thousands of miles.
There is a variety of lacquer products that are suitable for collection, decoration, gifts, and souvenirs, such as bottles, plates, screens, and accessories. They also enjoy the reputation as a protected product of Chinese ecological origin and are classed as a famous Chinese brand.
'Iron' walnut oil is a product that originates from a national nature reserve in Chengkou. The walnut oil is extracted from virgin forests at an altitude of over 1800 meters. The content of unsaturated fatty acids is as high as 97% and is rare for its brain nourishing properties. It is rich in the natural plant-based vitamin D and is also known as plant-based cod liver oil.
'Tishenger' is a word from the Chengkou dialect referring to a pick and mix style gift package offered to friends and relatives. These generally consist of various agricultural products such as bacon, honey, dried fruits, mushrooms, fungus, bamboo shoots, and tea.
Nowadays, they have become a synonym with green agricultural and forestry products from the natural ecological environment of Chengkou.