Chongqing – In the south of Chongqing, connecting with Qijiang District and Nanchuan District, lies a city named Wansheng. It is the One Hour Economic Circle in Chongqing, which is a circular area inside an hour drive to a major city. Meanwhile, the name, Wansheng, is lovely and auspicious – a place of all nature, history, and passion.
Wansheng, also a place full of coal began as a resource-based city. However, after exploring other natural resources here, such as mountains, water, springs, forests, caves, this city transforming into an integrated city, especially for tourism.
A biological gene bank of Chongqing
Located in the Dalu Mountains transiting from Yunnan-Guizhou Plateau to the Sichuan Basin, within Black Mountain Valley Town, Black Mountain Valley, Wansheng is 63 kilometers away from Chongqing. The maximum height from the top of the mountain to the bottom is 1,200 meters, the canyon is 13 kilometers long, and river valley pitch is 70 to 80 degrees.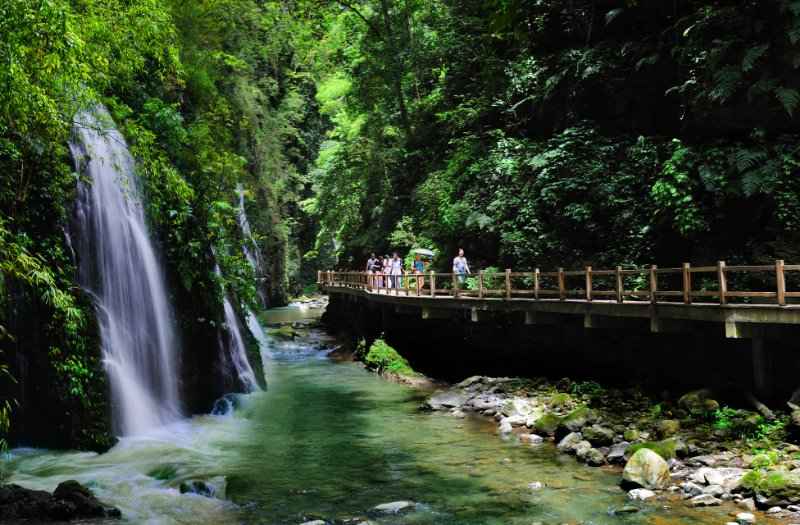 Wansheng Heishan Valley or Black Valley, photo credit to Wansheng Tourism Development Commission
The 5A scenic area has around 97% forest coverage. It is a popular summer resort with crystal clear streams, steep and densely wooded slopes, and serene valleys. The hiking path passes through 2 narrow valleys, 13km long, much of which is along planked walkways above the stream and in one spot it's possible to reach out almost touch both sides of the canyon, one in Chongqing and the other in Guizhou.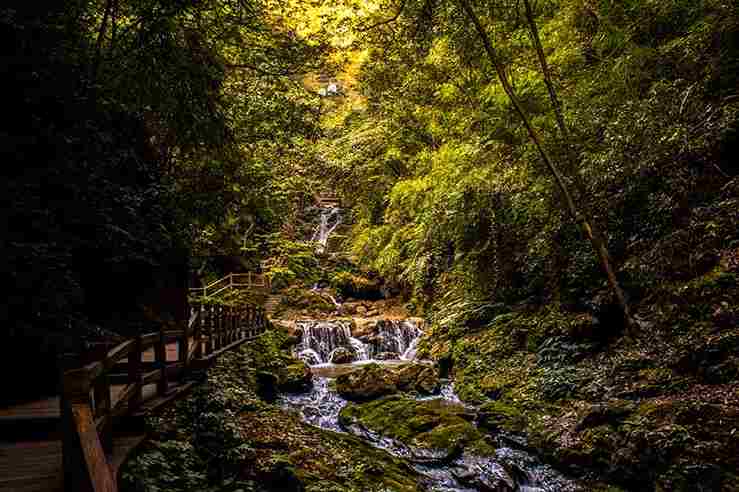 The natural skyline of Heishan Gu (Black Mountain Valley)
Moreover, it is the biological gene bank of Chongqing with various rare animals and plants under national protection. For example, there are wild animals like Francois' leaf monkeys, clouded leopards, golden pheasants, and pangolins living there. Meanwhile, rare plants also lie in Black Mountain Valley, such as Eucommia ulmoides, Chinese yew, Cathaya, and so on.
According to the scenic area, there are over 1800 different plants and more than 300 kinds of vertebrate animals.
The ancient Stone Forest to present a rugged world
Stone Forest, also known as Shilin in Chinese, is a unique landscape, as a part of karst landform. What is a stone forest? It is a notable set of limestone formations of a large area, as a scenic area.
Many people might know about Stone Forest in Yunnan Province, but the Stone Forest in Wansheng is different from the one in Yunnan. The surface of stones in Wansheng has many uneven patterns, while the stone surface in Yunnan is glazed. Stones in Wansheng look like dragon scales, therefore, gaining the name of Longlin stones, which means stones with scales of a dragon.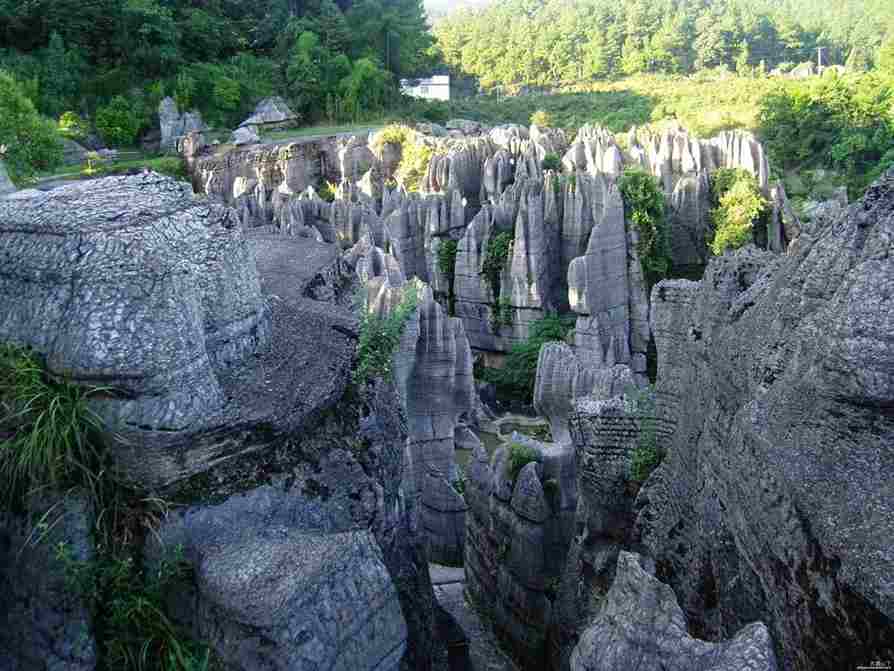 The Stone Forest in Wansheng has uneven patterns on the stone surface
It is craquelure. The water-containing carbonate deposits are cleaved, dehydrated and contracted during the tectonic forces and surrounding rock, and then subjected to pressure dissolution to make them transformed and complicated. Located in stratum, Longlin stones are typical Ordovician sedimentary rocks.
Wansheng Stone Forest is densely populated with fossils. There are more than 10,000 fossils in the area of less than three square kilometers. Moreover, the surface of the stone has been distributed with more than 50 fossils.
The exciting entertainment area on the cliff
Wansheng Ordovician Theme Park is a theme park that offers exciting high-place programs. The designers have well utilized the local conditions and followed the landforms to create these experience, challenge, and recreation facilities, about several floors high from the ground. Each of them aims to stimulate the adrenaline release and enable people to conquer the phobia of heights and push their limits.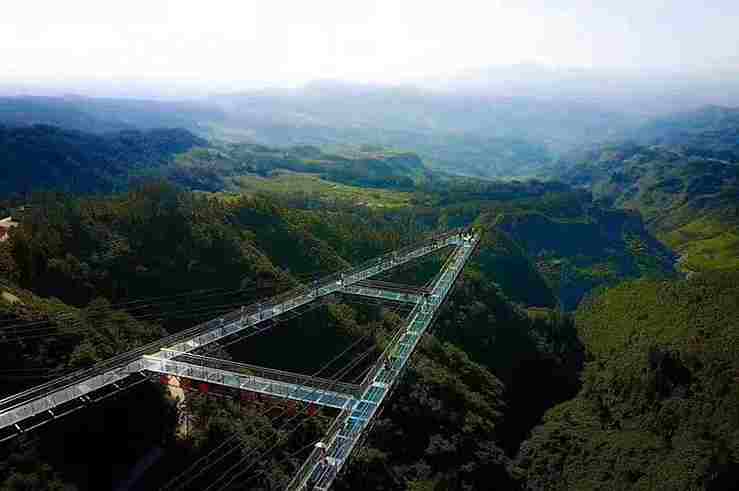 The bridge made of glass at Ordovician Theme Park
The most remarkable item there is the world's longest cantilever glass bridge, approved by the Guinness World Record, also lies here. Standing on a 300-meter cliff, it extends 80 meters long in the air. The service life of the glass bridge will be 50 years, with monthly check and maintenance.
Besides, visitors to this site can also enjoy the "cliff swing," which is the first of its kind in China. This recreation facility is on the peak and beside the cliff.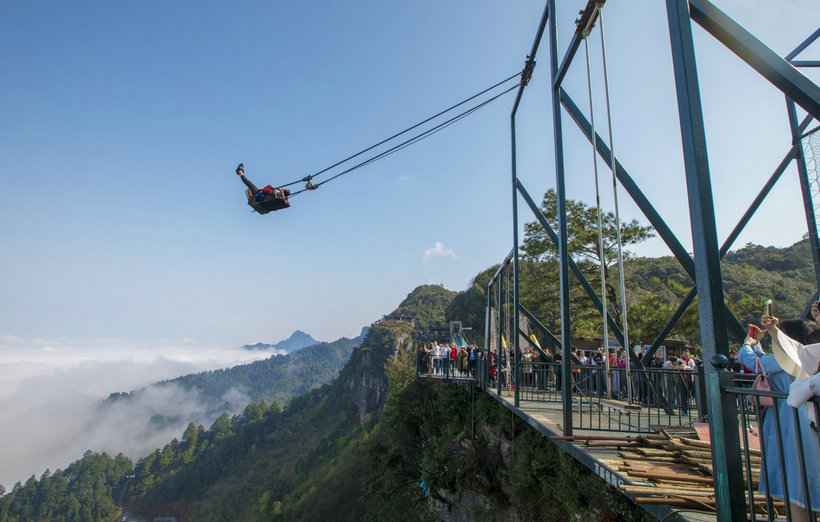 The cliff swing in Wansheng Ordovician Theme Park